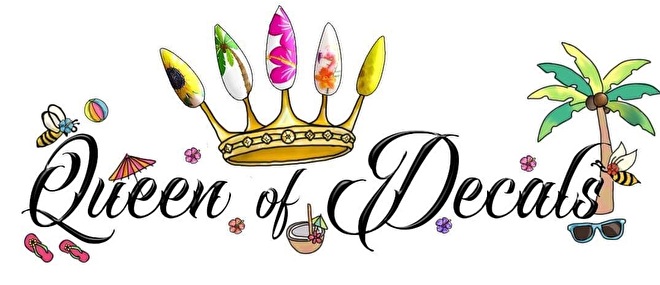 The new full cover 'Ultimate' collection.
This 'game changing' collection is created using advanced printing techniques, meaning they no longer need to be applied on a white base. Fully chemical resistant, easier to use and lay flat.
DISCLAIMER:
We have found that all the Ultimate Collection ON SALE does not function as it should! The manufacturer of the 'Ultimate' decals changed the formulation so it is not that flexible, and it tears easily! That's why we are offering 30% off on the entire collection, we don't know which is from the bad batch!
BEST SELLING

BEST SELLING

Queen of Decals - Beige & Cream V L (The Ultimate)

Queen of Decals 'The Ultimate' collection are water sliders that are fully chemical resistant, easier to use and lay flat. There is no longer a white base needed for all our 'Ultimate' collection decals. They're developed to be…

€ 6,81

BEST SELLING

Queen of Decals - White V L (The Ultimate)

Queen of Decals 'The Ultimate' collection are water sliders that are fully chemical resistant, easier to use and lay flat. There is no longer a white base needed for all our 'Ultimate' collection decals. They're developed to be…

€ 6,81

BEST SELLING

Queen of Decals - Black V L (The Ultimate)

Queen of Decals 'The Ultimate' collection are water sliders that are fully chemical resistant, easier to use and lay flat. There is no longer a white base needed for all our 'Ultimate' collection decals. They're developed to be…

€ 6,81

BEST SELLING

Queen of Decals - Barbz Font (The Ultimate)

Queen of Decals 'The Ultimate' collection are water sliders that are fully chemical resistant, easier to use and lay flat. There is no longer a white base needed for all our 'Ultimate' collection decals. They're developed to be…

€ 6,81 € 3,18

BEST SELLING

Queen of Decals - Mo Money Green (The Ultimate)

Queen of Decals 'The Ultimate' collection are water sliders that are fully chemical resistant, easier to use and lay flat. There is no longer a white base needed for all our 'Ultimate' collection decals. They're developed to be…

€ 6,81

BEST SELLING

Queen of Decals - Play Bunny (The Ultimate)

Queen of Decals 'The Ultimate' collection are water sliders that are fully chemical resistant, easier to use and lay flat. There is no longer a white base needed for all our 'Ultimate' collection decals. They're developed to be…

€ 6,81

BEST SELLING

Queen of Decals - Bright Yellow Snake Print (The Ultimate)

Queen of Decals 'The Ultimate' collection are water sliders that are fully chemical resistant, easier to use and lay flat. There is no longer a white base needed for all our 'Ultimate' collection decals. They're developed to be…

€ 6,81 € 3,18

BEST SELLING

Queen of Decals - Fake Snake Nude/Brown (The Ultimate)

Queen of Decals 'The Ultimate' collection are water sliders that are fully chemical resistant, easier to use and lay flat. There is no longer a white base needed for all our 'Ultimate' collection decals. They're developed to be…

€ 6,81

BEST SELLING

Queen of Decals - The Dollar (The Ultimate)

Queen of Decals 'The Ultimate' collection are water sliders that are fully chemical resistant, easier to use and lay flat. There is no longer a white base needed for all our 'Ultimate' collection decals. They're developed to be…

€ 6,81

BEST SELLING

-53%

Queen of Decals - The B in Barbie (The Ultimate)

Queen of Decals 'The Ultimate' collection are water sliders that are fully chemical resistant, easier to use and lay flat. There is no longer a white base needed for all our 'Ultimate' collection decals. They're developed to be…

€ 6,81 € 3,18

-53%

-53%

-53%

Queen of Decals - V L Multi Ombré 'The Ultimate Collection'

Queen of Decals 'The Ultimate' collection are water sliders that are fully chemical resistant, easier to use and lay flat. There is no longer a white base needed for all our 'Ultimate' collection decals. They're developed to be…

€ 6,81

Queen of Decals - V L Multi Mix (The Ultimate)

Queen of Decals 'The Ultimate' collection are water sliders that are fully chemical resistant, easier to use and lay flat. There is no longer a white base needed for all our 'Ultimate' collection decals. They're developed to be…

€ 6,81

Queen of Decals - V L Brown (The Ultimate)

Queen of Decals 'The Ultimate' collection are water sliders that are fully chemical resistant, easier to use and lay flat. There is no longer a white base needed for all our 'Ultimate' collection decals. They're developed to be…

€ 6,81

Queen of Decals - Teddy & Logo (The Ultimate)

Queen of Decals 'The Ultimate' collection are water sliders that are fully chemical resistant, easier to use and lay flat. There is no longer a white base needed for all our 'Ultimate' collection decals. They're developed to be…

€ 6,81

-53%

-53%

-53%

Queen of Decals - Brown Flame V L 'The Ultimate Collection'

Queen of Decals 'The Ultimate' collection are water sliders that are fully chemical resistant, easier to use and lay flat. There is no longer a white base needed for all our 'Ultimate' collection decals. They're developed to be…

€ 6,81 € 3,18

-53%

-53%

Queen of Decals - Bed of Roses 'The Ultimate Collection'

Queen of Decals 'The Ultimate' collection are water sliders that are fully chemical resistant, easier to use and lay flat. There is no longer a white base needed for all our 'Ultimate' collection decals. They're developed to be…

€ 6,81 € 3,18

Queen of Decals - Barbz Head Logo 'The Ultimate Collection'

Queen of Decals 'The Ultimate' collection are water sliders that are fully chemical resistant, easier to use and lay flat. There is no longer a white base needed for all our 'Ultimate' collection decals. They're developed to be…

€ 6,81

-53%

-53%

Queen of Decals - Negative Space Denim Print (The Ultimate)

Queen of Decals 'The Ultimate' collection are water sliders that are fully chemical resistant, easier to use and lay flat. There is no longer a white base needed for all our 'Ultimate' collection decals. They're developed to be…

€ 6,81

BEST SELLING

Queen of Decals - Pop Art OMG (The Ultimate)

Queen of Decals 'The Ultimate' collection are water sliders that are fully chemical resistant, easier to use and lay flat. There is no longer a white base needed for all our 'Ultimate' collection decals. They're developed to be…

€ 6,81

-53%

-53%

Queen of Decals - Folk Style (The Ultimate)

Queen of Decals 'The Ultimate' collection are water sliders that are fully chemical resistant, easier to use and lay flat. There is no longer a white base needed for all our 'Ultimate' collection decals. They're developed to be…

€ 6,81 € 3,18

Queen of Decals - Drippy White 'The Ultimate Collection'

Queen of Decals 'The Ultimate' collection are water sliders that are fully chemical resistant, easier to use and lay flat. There is no longer a white base needed for all our 'Ultimate' collection decals. They're developed to be…

€ 6,35

Queen of Decals - Drippy Hot Pink 'The Ultimate Collection'

Queen of Decals 'The Ultimate' collection are water sliders that are fully chemical resistant, easier to use and lay flat. There is no longer a white base needed for all our 'Ultimate' collection decals. They're developed to be…

€ 6,35

-50%

Queen of Decals - Watercolour Butterflies (The Ultimate)

Queen of Decals nail art decals are the ultimate nail art water sliders that are easy to use, exciting, inspiring and innovative. There is a white base needed for all our decals. When using acrylic powders you can use…

€ 6,81

-53%

Queen of Decals - A Peony For Your Thoughts (The Ultimate)

Queen of Decals nail art decals are the ultimate nail art water sliders that are easy to use, exciting, inspiring and innovative. There is a white base needed for all our decals. When using acrylic powders you can use…

€ 6,81 € 3,18

Queen of Decals - V L Pink Mix (The Ultimate)

Queen of Decals 'The Ultimate' collection are water sliders that are fully chemical resistant, easier to use and lay flat. There is no longer a white base needed for all our 'Ultimate' collection decals. They're developed to be…

€ 6,81

-53%

Queen of Decals - Hustle Hard (The Ultimate)

Queen of Decals nail art decals are the ultimate nail art water sliders that are easy to use, exciting, inspiring and innovative. There is a white base needed for all our decals. When using acrylic powders you can use…

€ 6,81 € 3,18

-53%

Queen of Decals - Croc Skin (The Ultimate)

Queen of Decals nail art decals are the ultimate nail art water sliders that are easy to use, exciting, inspiring and innovative. There is a white base needed for all our decals. When using acrylic powders you can use…

€ 6,81 € 3,18

Queen of Decals - Burb Check (The Ultimate)

Queen of Decals nail art decals are the ultimate nail art water sliders that are easy to use, exciting, inspiring and innovative. There is a white base needed for all our decals. When using acrylic powders you can use…

€ 6,81

-53%

Queen of Decals - Splashy Skulls (The Ultimate)

Queen of Decals nail art decals are the ultimate nail art water sliders that are easy to use, exciting, inspiring and innovative. There is a white base needed for all our decals. When using acrylic powders you can use…

€ 6,81 € 3,18

Queen of Decals - Mousy Love (The Ultimate)

Queen of Decals nail art decals are the ultimate nail art water sliders that are easy to use, exciting, inspiring and innovative. There is a white base needed for all our decals. When using acrylic powders you can use…

€ 6,81

Queen of Decals - Pooh! Bear & Friends (The Ultimate)

Queen of Decals nail art decals are the ultimate nail art water sliders that are easy to use, exciting, inspiring and innovative. There is a white base needed for all our decals. When using acrylic powders you can use…

€ 6,81

BEST SELLING

Queen of Decals - The Lion Kings (The Ultimate)

Queen of Decals nail art decals are the ultimate nail art water sliders that are easy to use, exciting, inspiring and innovative. There is a white base needed for all our decals. When using acrylic powders you can use…

€ 6,81

-53%

-53%

Queen of Decals - Pumpkin Gravey (The Ultimate)

Queen of Decals nail art decals are the ultimate nail art water sliders that are easy to use, exciting, inspiring and innovative. There is a white base needed for all our decals. When using acrylic powders you can use…

€ 6,81 € 3,18

-53%

Queen of Decals - Voodoo Dolls (The Ultimate)

Queen of Decals nail art decals are the ultimate nail art water sliders that are easy to use, exciting, inspiring and innovative. There is a white base needed for all our decals. When using acrylic powders you can use…

€ 6,81 € 3,18

-53%

Queen of Decals - Day of the dead Pumpkins (The Ultimate)

Queen of Decals nail art decals are the ultimate nail art water sliders that are easy to use, exciting, inspiring and innovative. There is a white base needed for all our decals. When using acrylic powders you can use…

€ 6,81 € 3,18

Queen of Decals - Dark Magic (The Ultimate)

Queen of Decals nail art decals are the ultimate nail art water sliders that are easy to use, exciting, inspiring and innovative. There is a white base needed for all our decals. When using acrylic powders you can use…

€ 6,81

Queen of Decals - Hocus Pocus (The Ultimate)

Queen of Decals nail art decals are the ultimate nail art water sliders that are easy to use, exciting, inspiring and innovative. There is a white base needed for all our decals. When using acrylic powders you can use…

€ 6,81

Queen of Decals - Halloween faces (The Ultimate)

Queen of Decals nail art decals are the ultimate nail art water sliders that are easy to use, exciting, inspiring and innovative. There is a white base needed for all our decals. When using acrylic powders you can use…

€ 6,81

-50%

Queen of Decals - Frankentweenies (The Ultimate)

Queen of Decals nail art decals are the ultimate nail art water sliders that are easy to use, exciting, inspiring and innovative. There is a white base needed for all our decals. When using acrylic powders you can use…

€ 6,35 € 3,18

-50%

Queen of Decals - Corpse Bride (The Ultimate)

Queen of Decals nail art decals are the ultimate nail art water sliders that are easy to use, exciting, inspiring and innovative. There is a white base needed for all our decals. When using acrylic powders you can use…

€ 6,35 € 3,18